Driven by chefs. Inspired by the bird.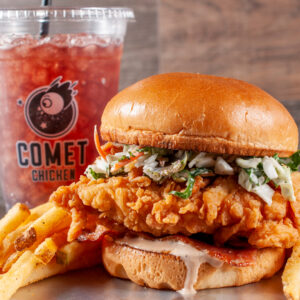 When we say tenders, we mean it. They're boneless, skinless, 
all white meat, and as tender as their name suggests. 
Oh… and they're hand-breaded in house. But that's not the only thing we do right at Comet Chicken. You also get delicious food, served quick!
Lunch, dinner, and all those "refresh and recharge" breaks in between, our meals put the bird in the spotlight with grilled or house-breaded tenders, fries and lots of made-from-scratch sauces. Of course, if you want all the flavor without the meat, we serve up amazing salads, too – and they're equally delicious
"Just drinks" is also a thing at Comet Chicken. In addition to a few tap beers and fountain soda (with pellet ice, obviously), we also brew a variety of teas, plus house-made keg cocktails. Sensing that chef-driven love for hand-crafted perfection, yet? Yeah, we thought so. Consider yourself warned though. You may not be able walk by those made from scratch churros!
Regulars are welcome, and new friends are encouraged. But no judging when we remember your name and your order. Come, eat, relax. Do it all over tomorrow.